Toroni is the queen of the southern part of Sithonia peninsula, located just 20 km from N. Marmaras, which is one of the most busy areas of Halkidiki. Thessaloniki Airport is 127km away.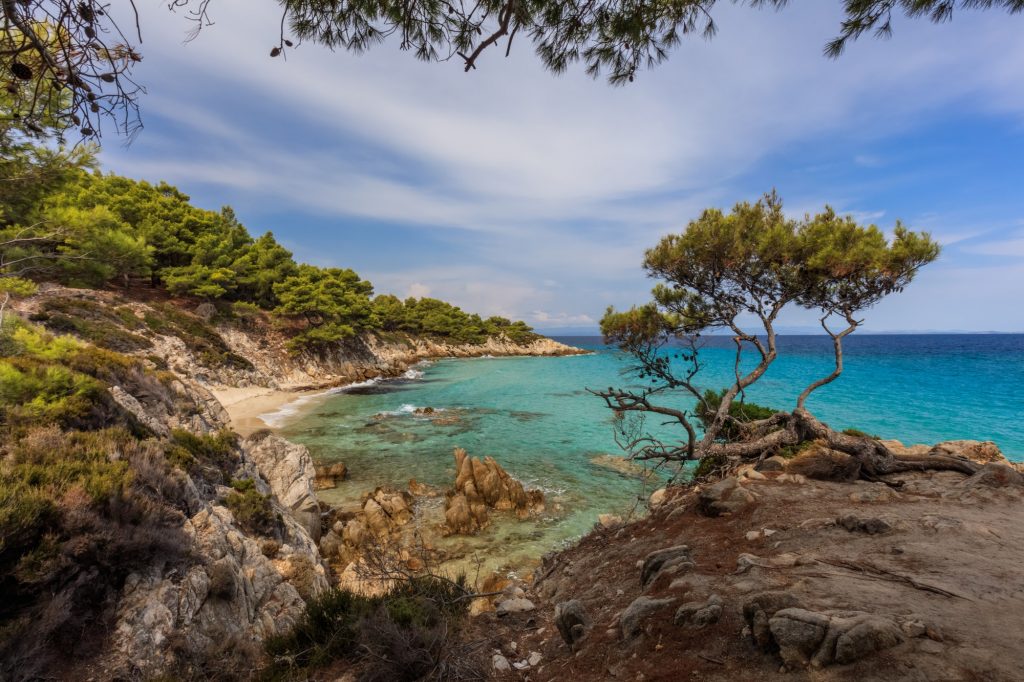 The turquoise waters of dreamed Toroni, is awarded with blue flags, and its golden sandy beaches spread out on a beach of 2 km. Beaches that satisfy all tastes, as they can be found organized and deserted as well, form a paradise, with all these enhancing the region's attractiveness for more visitors.
Graphic ports, remoted coves next to olive groves, green forests and meadows, unique architecture in settlements and churches make it even more attractive.
Toroni offers opportunities for sports activities and entertainment. Take a boat ride and discover places you did not imagine that existed, such as Porto Koufo and Tristinika with the traditional Ethnic beach bar all day and night. Go for Trekking from Lecythus Castle to the Cannons with the magnificent view of Toronaios gulf. Go for mountain biking in quite some gorgeous pathways on the hills and the beaches. Living in Toroni you can explore around Kalamitsi, Kriaritsi with gorgeous Tigania beach bar, in Sykia the little bays Pigadaki, Linaraki. Experiment with diving, snorkeling and all the activities provided by diving centers under the guidance of experienced instructors. Take yacht cruises exploring Sithonia coastline or visiting islands in the Aegean sea
A highly touristic region, a long veranda with a panoramic view to the Toroneos Gulf and the Aegean sea. Toroni, a typical fish farming, and agricultural village gradually is developing into a must-visit place for the summer holidays. Beautiful landscape with pine trees forest hills that are meeting the seashore and the mild development of buildings with low height helps to maintain a natural character desired by most people going for holidays. Get to know the area, enjoy swimming in the clear crystal waters awarded with blue flag, sunbathe in any place in the very long white sand beach, which is among the well-recognized best beaches in Halkidiki and Greece. Stay with your family/friends late in the evening to enjoy the wonderful sunsets from any place in the beach. Take a morning jogging all along the promenade or take long evening walks to the long promenade. Go for trekking from Lecythus castle to the Cannons. Go for cycling in Toroni, the near hill pathways or the beaches, By taking a walk there are traditional taverns offering local cuisine, seafood deli's and fine wine or local tsipouro spirit appetiser. Enjoy your evening coffee in a number of cafés or enjoy your night drink in the atmospheric bars. Supermarkets, kiosks with honey and local olive oil, clothing and souvenirs all around you. Visit nearby Porto Koufo one of the big deep natural harbors with fish taverns offering fresh fish dishes and seafood flavors of magnificent taste. Enjoy a veranda view with an evening or a night drink in Ethnik all-day beach bar in nearby Tristinika beach. Toroni may also be your tranquil home hub where you can have all explorations around the beautiful landscape and beaches in the peninsula of Sithonia.
Toroni (Τορώνη) has been a well-known ancient Greek city that maintains few ruins from the ancient and Byzantine era.